Do you want your child to feel better, be less stressed and ENGAGE IN MORE EFFECTIVE LEARNING?
OPENING DOORS FOR DEVELOPMENT AND LEARNING
A 4-week course for parents of children on the autistic spectrum
Do you want to help your child on the autistic spectrum to:
Think straight?
Feel better?
Express their emotions?
Make and keep friends?
Know how unique and valued they are?
Are you tired of seeing your child suffering with:
Meltdowns?
Fears and anxieties?
Running away/kicking out?
Being by themselves?
Feeling forgotten?
If you are a parent with a child on the autistic spectrum and you want to help them move from control battles to willing engagement, there is an open door for you at our 'Opening doors for development and learning' course. In this course you will spend 10 hours over 4 weeks engaged in deep learning where you will discover how to move your child from high levels of stress and anxiety to a relaxed and open state for connection and learning. Once you have learnt how to do this, you can use your skills whenever you need to to help your child move from stress and meltdowns to relaxed and connected.
In the course we cover:
Week 1: REDUCING STRESS
In this course you will learn to help your child relax, de-stress and come out of meltdowns sooner. You will learn the best ways to respond to complex behaviour and immediately reduce stress levels.  You will gain insight into whether your child is being naughty or struggling to process emotions and what to choose as the most effective response. You will learn how your own emotions trigger feelings and reactions and how to use this knowledge to help both you and your child. You will discover effective ways to connect to your child in close moments, so you can access this as an effective tool when your child is melting down or anxious. You will practise the art of walking through consequences in your mind before reacting to your child and seeing how fast this can change your child's responses and behaviour. You will discover the logic to why your child is controlling and discover ways to lower your child's need for control so they start to feel more flexible. You will learn the neuroscience about why putting connection first with your child is so helpful and will practise building a deeper trust between you so you are able to fully comfort your child in times of distress.
Q&A about your own situation
Week 2: BUILDING CLOSE CONNECTIONS
You will learn many skills and techniques to create a closer connection between you and your child, where your child will eventually be happy to learn from you. You will learn to help your child build stronger connections with siblings, family members and peers . You will discover how to help your child interact and engage willingly for longer periods of time so that close relationships continue to grow.  For this you will be using your child's personality, their current motivations and your new skill-set.
Q&A about your own situation
Week 3: BUILDING COMMUNICATION
In this part of the course you will learn how to give your child an opportunity to develop their speech whenever you are with them, so you never miss opportunities. You will learn how to help them take in and process what they are hearing and respond back in ways that mean something to them and make sense to others. You will learn how to inspire your child to talk more and develop their skills in the art of two-sided conversations.
Q&A about your own situation
Week 4: JOINING IN – BEING AN EQUAL PLAYER
Here you will learn to use your child's level of connection and communication abilities to help them build and keep friendships. You will discover how focusing on your child's relationship with you will develop their skills to the level that they can transition to connecting with peers and making friends.  You will learn how to help your child with the skill of perspective-taking so that they can learn to see into the thinking and feelings of others and respond accordingly. You will learn about the importance of developing this skill as a vital tool for your child's social skills and ultimate independence. You will come away from this session with techniques and skills to start helping your child immediately to make friends and feel happier.
Q&A about your own situation.
WHY WOULD YOU TAKE THIS COURSE?
So many people believe that these skills just happen naturally or they don't happen at all because of their child's diagnosis, without realising the impact they can have on their child's development. Some people hope that they can leave their child's development up to the school and that magically, their child will grow out of their difficulties.  I have rarely seen this happen. Schools do not have a chance to put a priority on social and emotional development in this way as their focus, rightly, is on academic learning. There is often not the capacity or skill-set to the level needed, even if there is willingness.  This is why there are a growing number of parents who want to take the lead in their child's development. up-skill and become catalysts for change, giving their child every chance to think, connect, communicate and learn.
You will find that investing the time to learn the skills from these four sessions now will help you to always be able to reduce your child's stress, build their connections, communicate more easily and put them in a better position to make and keep friends. These skills can be built on throughout their life, leading towards happier relationships and ultimately, more independence.
HOW DOES THIS COURSE WORK?
This course runs over 4 weeks with a 2.5-hour session per week. It is run on Zoom.
what are the next dates & times FOR THIS COURSE?
The next course starts on Thursday 30th September followed by 7th October, 14th October and 21st October.
The course takes place on Thursday evenings between 7pm – 9.30pm (UK time).
BONUS – COMPLEMENTARY VIDEO COACHING RESOURCE WHEN YOU WORK WITH ME
When you attend my courses, you will get complementary access to my video coaching resource for 6 months. This will complement what we are learning and has clear reminders of what you can do every day to support your child's journey from stress to connection by giving reminders and new concepts and skills that you can access while on the journey. These will help to up-skill you and consequentially help your child to feel better and enjoy connecting more. This resource contains 33 short videos, stories, learning points, take-aways and coaching questions.
GUARANTEE: If, after you've been through this whole course with me, engaged in the process, tried the suggested techniques with your child and found that nothing has helped you, I will give you a full refund.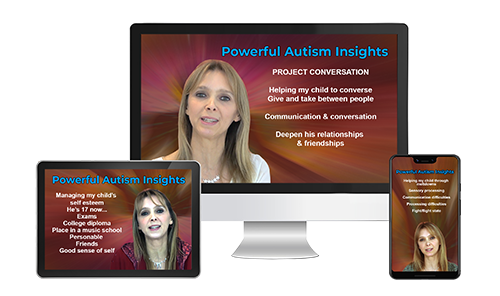 GUARANTEE: If, after you've been through this whole course with me, engaged in the process, tried the suggested techniques with your child and found that nothing has helped you, I will give you a full refund.
'Other companies should use you because you have lived through 17 years of trial and error, tantrums, hope and success. It has been amazing to listen to your experiences today, not only to reflect on work but my own family. It's the first time I have been properly connected in autism training. I can feel the love and compassion and have enjoyed the little humorous stories which have come out of your life. It has kept it fresh and encouraging'
'It's not theory – it's genuine. It's taken out of reality'
'Pace and delivery was good – the presenter was very engaging and authentic. It leaves you with hope. It adds a different perspective – not clinical'
'It has made such a difference to have training with a trainer who has actually lived it – so much information given. Very down to earth – loved listening to you. Plenty of knowledge and personal experience'
'The course was based at the right level for people who already have a basic knowledge of ASD. It focuses on how the adult can support and adapt their behaviour to have a positive impact on a child's behaviour'.